HOME MAINTENANCE AND IMPROVEMENTS ON YOUR TERMS IN BARRIE
Hiring a reliable Barrie handyman service is easy. Choose the service you like and get in touch!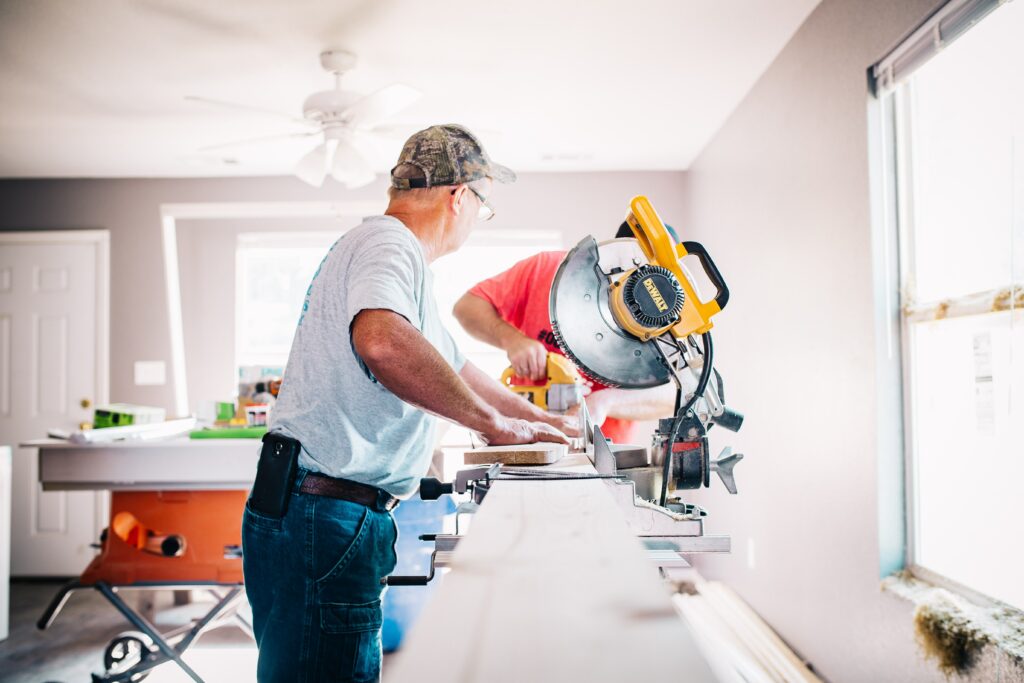 If you're like most homeowners, you have a never-ending list of home repairs and improvement projects that you'd love to get to someday. But sometimes it's just too hard to do it all yourself. That's where our Barrie handyman services come in. We can help you with everything from garbage disposal installation to repairs of toilets and other bathroom fixtures.
Our team of experienced workers can handle any home repair or improvement project you need, big or small. And because we're local to the Barrie area, we can usually get to your home quickly to take care of whatever needs to be done.
So if you require a trusted handyman for your next home project, big or small – don't hesitate to call us. We're ready to help!
Local Handyman Services In Barrie And Simcoe County
Looking for a reliable yet affordable handyman in Barrie or Simcoe County? Look no further than Wallet Friendly Handyman! We proudly provide top-quality handyman services to homeowners, property managers, and businesses in the area.
We run our business with integrity, providing excellent customer service and quality workmanship. This has made us one of the top handyman service providers in the area.
Customers call us for home maintenance and repair services when they want the job done right. Please take a look at some of the nice things our clients have said about our work in these customer reviews.
If you're a busy homeowner with a to-do list that you never have time to get to, it might be time to hire an expert. Wallet Friendly Handyman offers a wide range of services, from home repairs and renovations to carpentry and landscaping.
We're here to help make your life a little easier, so give us a call today!
What Can Wallet Freindly Handyman Do For Your Property in Barrie?
If you're like most people, you probably have a long list of tasks that need to be done around the house but don't have the time or expertise to do them yourself. That's where Wallet Freindly Handyman comes in.
We're a Barrie-based company with years of experience helping homeowners with everything from minor repairs to major renovations.
Some of the things our crew can help you with include kitchen repairs, replacing toilets and faucets, fixing leaky roofs, painting walls and ceilings and much more!
We understand that not everyone has a lot of money to spend on home repairs, so we offer competitive rates and payment plans. We also accept most major credit cards.
If you're in need of help with maintaining your property, please don't hesitate to give us a call. We'll be happy to come to your property and give you a free, no-obligation quote.
Why Hire A Professional Barrie Handyman For Your Home Project?
There are many reasons why you might want to consider hiring a professional Barrie handyman for your home project. Here are just a few of them:
Expertise and experience
A professional handyman will have the skills and knowledge necessary to get the job done right, and he or she will have the experience to handle any potential problems that might arise.
Time-saving
Hiring a professional handyman can save you a lot of time since you won't have to do the job yourself. This is especially beneficial if you have a busy schedule.
Cost-effective
In many cases, hiring a professional handyman can be more cost-effective than doing the job yourself. You'll save money on tools, materials, and time.
Safety
When you do a job yourself, there's always the risk of injury. Hiring a professional Barrie handyman service eliminates this risk.
Peace of mind
By hiring a professional Barrie handyman services, you can rest assured knowing that the job will be done properly and that any potential problems will be handled promptly. This can give you peace of mind and allow you to focus on other things.
If you're considering hiring a professional Barrie handyman for your next home project, please contact us today. We would be happy to discuss your specific needs and help you choose the right handyman for the job. Thank you for considering our services!
Why Choose Our Barrie Handyman Services?
When it comes to choosing a handyman service in Barrie, you want to be sure that you're making the best possible choice for your needs. That's why we've put together this list of reasons why our handyman services are the right choice for you:
We're insured: This means that in the unlikely event that something goes wrong during our work, you won't be left with out-of-pocket expenses.
We're always on time: We know that your time is precious, so we'll always arrive when we say we will.
We stay on budget: We'll provide you with a clear estimate of costs before we start work, so there won't be any nasty surprises when the bill comes.
We provide valuable advice: With years of experience in the industry, we're able to offer our customers helpful advice and guidance on a range of handyman services.
We treat your home as ours: We understand that your home is your sanctuary, so we'll take care of it as if it were our own.
Need Help With Your Rental In Barrie? Look No Further!
Wallet Friendly Handyman offers comprehensive rental property services to help landlords and tenants in Barrie. From repairs and maintenance to cleaning and painting, we can take care of everything for you.
We understand that keeping a rental property running smoothly is a full-time job. Let us help you take some of the burdens off your shoulders. Contact us today for a free quote on our rental property services.
We're reliable, experienced, and always affordable – call us today for a free quote!
Have a new project in mind?

Start today

Join us

Let's talk
We are local professionals ready to provide top of the notch services.
Schedule an appointment with us to discuss your goals and needs.
Contact Us