HOME MAINTENANCE AND IMPROVEMENTS ON YOUR TERMS IN WASAGA BEACH
Hiring a reliable Wasaga Beach handyman service is easy. Choose the service you like and get in touch!
Wasaga Beach Handyman Services You Can Trust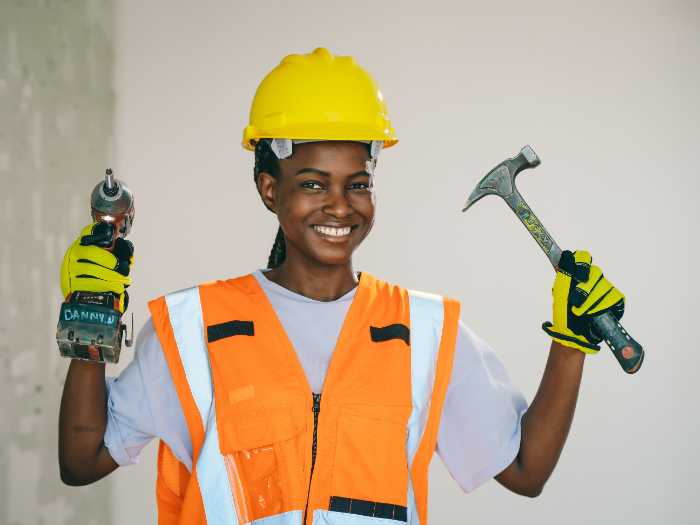 The majority of property owners, like you, likely have a long list of home repairs and upgrades to complete. If you're trying to handle it all on your own, keeping track of it all may be tough. Repairs to damaged rails or changing fixtures are two easy ways for anybody to repair their house.
We're a family-owned business with over ten years of experience and all of the required accreditation. We can handle anything from the most basic to the most complex house repairs.
When you choose Wallet Friendly Handyman, you can be certain that we will undertake each house maintenance and repair task correctly and promptly. We're here to assist you in completing all of your tasks so that you may focus on other things in your life.
We may assist you with any handyman work in Wasaga Beach. We always come on schedule to complete the task, as we respect your time.
We provide a wide range of handyman services, such as picture hanging, drywall repair, appliance installation, garage door opener repairs and replacements, and minor house maintenance. We are your one-stop-shop for all your handyman requirements.
Our house maintenance services include everything from simple yard maintainance to major repairs, so we can assist you with any property upkeep jobs, no matter how big or little they are. You will not be disappointed; that is a given.
Local Handyman Services In Wasaga Beach
Look no further than Wallet Friendly Handyman if you're searching for a trustworthy, low-cost handyman in Wasaga Beach or the surrounding areas. We provide outstanding handyman services in Wasaga Beach, Ontario to homeowners, landlords, and property managers.
We can handle anything from minor repairs to major renovations, and we'll even do the basement finishing for you so you don't have to. From routine maintenance to challenging restorations and extensions, we take care of it all.
We understand the challenges of running a business in Wasaga Beach since we face them daily.
We'll work with you to determine the best solutions for your specific needs and budget, whether you're looking for home renovations or general maintenance.
If you're looking for a handyman that has the experience, contact Wallet Friendly Handyman right now. We are happy to assist!
Best Rated Wasaga Beach Handyman Services
As a consequence, we've been able to establish ourselves as one of the region's top handyman services by offering exceptional customer service and high-quality work.
We have a team of skilled and certified professionals who can handle any task, big or little. We're here to help you with all of your handyman needs so you may focus on more important things.
Customers select us to keep and repair their properties because they know we will not overlook a detail and that the job will be done correctly the first time. Take a look at some of our satisfied clients' comments.
Hiring a skilled handyman might be the answer if you have an ever-growing to-do list and are a busy homeowner. Wallet Handyman Services offers a variety of services, including home maintenance and renovation, carpentry, and landscape design.
If you require assistance with your request, please contact us right away and we will be happy to assist you! Please do not hesitate to contact us if you have any questions about our handyman services in Wasaga Beach.
What Can Wallet-Friendly Handyman Do For Your Property in Wasaga Beach?
The majority of families have a long list of home improvements to undertake, but they lack the time or expertise to do so. Hiring a cost-effective, local, and insured handyman is then worthwhile.
We're a Barrie-based firm with years of expertise in everything from minor repairs to big renovations.
We're here to assist you with any problem, large or little, and we can do so without charging an arm and a leg. From minor kitchen repairs to toilet and faucet replacements, leaking roof repair, drywall patching, wall and ceiling painting, and more, our specialists can help you with everything from small repairs to major renovations!
The average cost of repairing a leaky faucet is $200. We recognize that not everyone has access to a lot of money for house repairs, therefore we provide cost-effective solutions and financing alternatives. We also take most major credit cards.
We strive to deliver outstanding client service. Please do not hesitate to contact us with any queries you may have regarding your property.
We provide on-time service for all our customers; we'll be there for you if you need us at a specific time. If that's the case, we'd be delighted to come to your home as soon as feasible and give you a free, no-obligation price estimate.
Why Hire A Professional Wasaga Beach Handyman For Your Home Project?
Hiring a handyman from Wasaga Beach, Ontario may provide you with several advantages. Here are some more:
Expertise and experience
Hiring a competent handyman is beneficial. You can trust him to have the necessary gear and skills to complete the job correctly, as well as an understanding of what you should anticipate in case of unforeseen events.
Time-saving
Hiring a professional handyman may help you save time because you won't have to do the work yourself. This is particularly beneficial if you have a lot on your plate.
Cost-effective
In certain circumstances, engaging a skilled handyman may be less expensive than doing the work yourself. In many situations, not performing the job oneself will save money and time on materials and labor.
Safety
If you attempt to repair your home on your own, you risk being harmed. Hiring a skilled handyman eliminates this danger.
Peace of mind
Choosing a professional handyman is the most efficient approach to ensure that the job is done correctly and any potential concerns are swiftly addressed. This may provide you with piece of mind while freeing up your time so you can devote it to other activities.
If you want a trustworthy, experienced Wasaga Beach handyman to assist you with a future property project, give us a call right now.
Thank you for taking the time to learn more about our firm! We'd be delighted to discuss your objectives and assist you in locating the best handyman for the position. Thank you for taking the time to get familiar with our company!
Why Choose Our Wasaga Beach Handyman Services?
When it comes to hiring a handyman in Wasaga Beach, you should exercise great caution. We realize that you don't want to jump into a new business without doing your homework.
We provide the greatest alternative for you since we deliver high-quality work at a reasonable cost. The following are ten reasons why our Wasaga Beach handyman services are superior to others:
We're insured: A modest investment that offers a lot of security. We provide comprehensive 2M liability insurance on all of our services.
We're always on time: We understand how precious your time is, which is why we will keep all of our promises.
We stay on budget: Let's go through the costs so there are no unpleasant surprises when the invoice arrives.
We provide valuable advice: We are a full-service handyman company with years of expertise in the sector and can help you with several handyman tasks since we have a lot of expertise.
We treat your home as ours: We realize that your home is your castle, so we'll treat it as if it were our own.
We provide top-notch, trustworthy, and inexpensive services. Please contact us right now to schedule an appointment!
Need Help With Your Rental In Wasaga Beach? Look No Further!
Do you not reside in Wasaga Beach, Ontario, but don't own property? If the answer is yes and you'd want routine maintenance or repairs done on your rental property but don't feel equipped to do it yourself, Wallet Friendly Handyman can assist.
We're able to not only assist you with maintenance and repair, but also garbage collection and landscaping. We all understand how time-consuming property management can be.
Contact us promptly for a free quotation if you're thinking about having your rental home cleaned or repaired. We would be pleased to come to your rental and assess the required labor.
If you require more information, please contact us at your earliest convenience.
Have a new project in mind?

Start today

Join us

Let's talk
We are local professionals ready to provide top of the notch services.
Schedule an appointment with us to discuss your goals and needs.
Contact Us