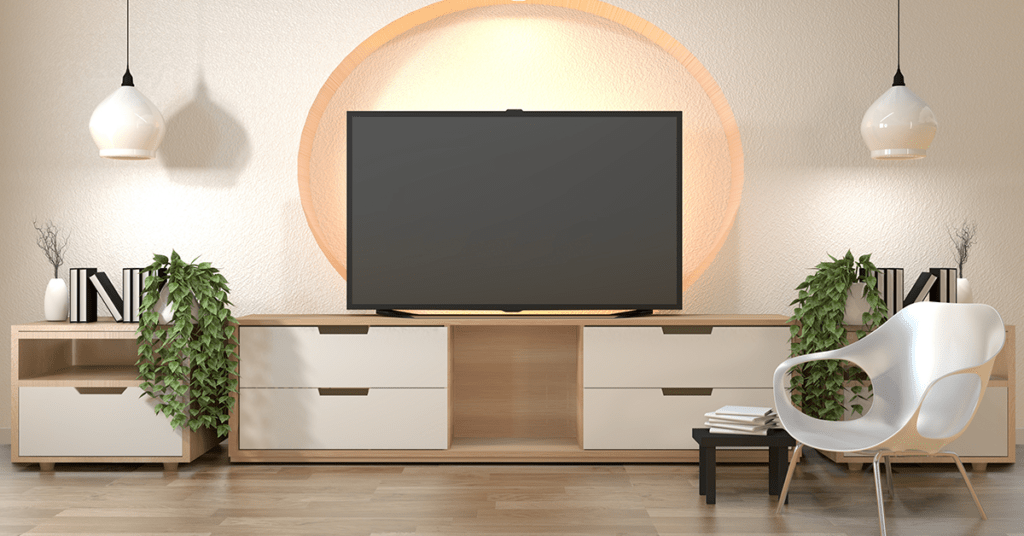 Decorating a TV wall has become a popular way for homes and offices. The TV wall design idea encompasses your screen so that the TV wall remains sleek and sophisticated. You can make the TV wall match your furniture and décor in your room or office!
Do you have any creative ideas for mounting TV? Don't worry. Just relax, because today I'm sharing some brilliant ideas to decorate your TV wall. So, keep on reading!
Stylish Ideas For TV Mounting
Here we have explained 10 ideas on how to decorate your TV wall.
Choose a Creative Backdrop For Your Tv
One of the most common home decorating mistakes is using a bland backdrop for your TV. It can make your living room look boring. You can create a modern space by choosing an interesting backdrop for your TV.
Hang fabric behind the TV to create a barrier between the TV area and other room parts. You can fill it with art or decor, so it doesn't feel empty. Or you can use a bold piece of artwork at eye level behind the TV.
It is important to choose the right size for your TV to match the furniture in the room. And give your TV an interesting backdrop. You can also mount your TV above your fireplace or on a wall opposite a window. It can work really well and gives a very stylish look to the living room.
Add Meaningful Decor To Distract Your Eye From The Tv
Watching TV for a long time can cause eye strain sometimes. Make your TV watching more enjoyable by adding characterful decor to distract your gaze.
You might want to try a low coffee table in front of the sofa. You can enjoy your favorite shows while having a space of your own. If you want the TV screen close, go for floor-to-ceiling curtains or bookcases around it. Because it breaks up the noise and light from outside.
For a wall-mount television, a simple table lamp or a pair of candles will add some extra value to your living room. It gives off just enough light to make it feel as though you're sitting in the middle of the room.
A TV stand might seem like an odd place for characterful decor, but it's actually really useful. A TV stand can be made out of almost anything, and it's great for storing DVD players and other bits and bobs. It also means that all your gadgets can be put away neatly.
When you pick your furniture, go for something that complements your décor, not just blends in with it. If you've got a traditional-style home, something modern and characterful will add flair.
You can always add your favorite accessories to individual pieces of furniture. A gold-framed mirror or a pretty vase can be just enough of a statement to make the room feel finished and complete.
Use Wooden Pallets To Create An Elegant Frame
You can paint the foam board and use glue dots or double-sided tape to hold it on the wall. You can fill in spaces between pieces with black construction paper or cork squares. Or you can decorate it with your own creativity.
Using wooden pallets is an all-natural project that uses recycled materials. Paint the pallets in rich color. Circle the area where you want the TV to go on top. Then use glue dots or contact adhesive to attach the painted pallet. Make sure not to press down too hard, so that it couldn't crush or bubble. Once dry, you can use strips of wood or cork squares.
Use Pegboard Or A Salvaged Piece To Create An Elegant Frame
Pegboard is another great, recycled option. Paint the pegboard in a rich tone. Then, glue dots or contact adhesive to attach it to all four sides of your TV. Once dry, you can use strips of wood or cork squares to build a frame for your TV.
Old barn wood has become quite trendy recently. But if you want something more rustic that holds vintage appeal, look for old pieces of furniture with interesting grain patterns or colors. If you want, you can also paint it!
Hang A Huge Canvas On The Wall
A 'collage' of images on a canvas is a great idea. It can be as simple or as complex as you like. It can make your TV look like artwork and give you the freedom to change this space if you are bored.
Sometimes you may find that simply hanging some art on the wall will give you enough interest. In this case, you don't always need to go out and spend too much money on something expensive. This will usually be enough to make your room look great.
Carefully arrange a gallery wall behind or in front of the TV to add interest and dimension to the room. Hang a row of your favorite photography prints to create this look. Keep the arrangement balanced by alternating wider frames with more narrow frames. As well as you can use black and white photos with color photos.
Put Plants In Front Of Your Tv
Not only does this look great but also it becomes a natural air purifier for the room too. A little green plant is a great addition to any space. When placing small plants in front of your TV, it will freshen up the air around such a powerful heat source.
Keep It Clean
I love the idea of a TV wall being completely clear. A completely white wall with a lovely big TV and nothing else can't fail to look stylish. If you have white TV, black sofa, and wood shelving, it will look wonderful all together in this minimal space.
Be Creative With Your Media Storage
There's no need to have your DVD collection on display over your TV if you don't want to! You can create tantalizing vignettes of artwork around your media storage by hiding it carefully behind books or ornaments. Either you can make it how you will love it, or you can collect some ideas on it.
Use An Old Window To Frame Your Tv
Windows has many great features, you can use them to add both function and style to your living room. Buy an old window at a thrift store and use it as the focal point of your TV wall. You can use it simply, or add some creative simple art that matches your room.
Use A Decorative Tray To Display Knick-Knacks
If you have a small space but want to fill some extra space on your TV wall, one of these trays could be just what you're looking for! Place your favorite photos, candles, or decorative pieces in the tray to hold items below it off the wall and add an interesting visual element.
Guideline For Creating Stylish Tv Wall
Once you know what you're looking for, here's the process for creating a TV wall:
Step 1: Consider How The Wall Will Be Used
This will determine the type of TV you need. On-wall TVs are perfect for spaces that don't allow a lot of light to get in, such as bedrooms or spaces where people spend a lot of time, watching TV. 
Step 2: Choose An HDMI Port
You may have multiple TV ports, or you may have a single cable box or DVD player that's hooked up to multiple terminals. If you don't use all the ports, consider using one terminal for multiple devices. This will save you space! And once you decide what type of terminal will be used, pick your TV and make sure the port is compatible with that set.
Step 3: Mounting The Tv
It's time to pick where your TV will go. Wall brackets are a great way to mount a TV. But the actual placement of your bracket depends on the direction you want your TV to be facing. The bracket should be installed on a solid wall, like brick, concrete, or a wall that's reinforced by brackets.
Step 4: Hooking Up Devices
After your TV is mounted and hooked up, it's time to deal with devices that can stand independently. If you already have a cable box and want to keep it without hiding, there are numerous ways to do so. You can create holes through the drywall or wood that cover your cable box's ports. So, you can run cables through them for other devices.
If you can't hide the cables, then it's time to get creative. If you have a lot of home theater equipment, you may want to place your gear on the wall by itself. You'll need to be creative with these types of setups. With a little imagination and some planning, it can look great!

Wallet Friendly Handyman
Step 5: Wall Decor
Now your equipment is running between the wall and the TV, and it's time to add some subtle art for style points. Enjoy!
Final Words
Wall-mounted TVs are great if you have limited space and want to utilize wall space all around your screen. If you're planning on placing your TV on the wall, a professional TV wall mounting service is recommended.
Now you have a few ideas for creating a stylish TV wall. Try one of these at your home or office and enjoy spending your free time.